Chitabe Lediba is a classic wilderness camp located in a private concession in the south-eastern Okavango Delta with the Moremi Game Reserve bordering the north and east.
Xigera, a classic wilderness camp, is located in the central west Okavango Delta within the Moremi Wildlife Reserve in in one of the most beautiful parts of the Okavango.
Sango Safari Camp is situated on the border of Moremi Game Reserve and offers guests the perfect base from which to explore the wildlife and culture of this unique habitat.
40.3 km FROM Moremi Game Reserve
30.2 km FROM Moremi Game Reserve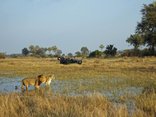 41.5 km FROM Moremi Game Reserve